Have you ever walked through a store looking at essential oils and absolutes, wondering what the difference is? (Did you notice the rhyme? Please state that you did:P) We've all been using essential oils and absolute oils interchangeably without giving much thought to how these two differ, or do they? Have you ever wondered why there is such a large price difference between essential oils and absolutes? Yes? We've got a detailed explanation of essential oils vs absolutes for you. Our aromatherapist will also discuss why absolutes should be included in your aromatherapy collection. 
Aroma oil extraction methods: Difference between steam distillation and solvent extraction.
The method of extraction is one of the primary distinctions between absolutes oils and essential oils. As a result, essential oils and absolutes derived from the same plant, or even the same plant part, can have distinct properties. Let us first attempt to comprehend these two extraction methods. 
Oil extraction via steam distillation
It is one of the most common methods for extracting oils from plant roots, flowers, stems, and leaves. This is a relatively simple technique that has been used to obtain aromatic oils since ancient times. The raw material is first placed in a vat with water as part of the steam distillation process. The heat degrades the plant, releasing aromatic compounds as vapour infused with the essential oil of the ingredient. 
After that, the vapour is collected and condensed. Water is then separated from the oil. The collected oil is then bottled and ready for use. This method is used to create the majority of essential oils. 
Solvent distillation for Oil extraction
Some plants, such as jasmine, are too delicate and cannot be heated. There is no use of heat, steam, or water in this process. Instead, the raw material is immersed in a solvent, which causes the aromatic compounds to be released. After that, the solvent is removed, leaving a fragrant and highly concentrated mixture known as an absolute. Because they are so concentrated, they frequently smell closer to the plant.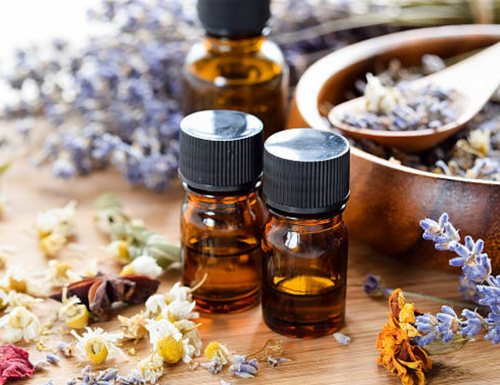 Absolutes vs. essential oils
While essential oils are typically extracted using steam distillation, plant absolutes are extracted using solvent extraction. Aromatherapy, medicinal purposes, diffusers, cosmetics and skincare products all make use of essential oils. Because of their aromatic properties, they are used to treat depression, stress, anxiety, and calm. Historical texts from India, China, and Greece contain information and uses for essential oils for a variety of ailments. The benefits of essential oils in skincare and haircare have resulted in a surge in demand for these oils in the natural beauty industry worldwide. 
Absolutes, on the other hand, are highly concentrated (far more than essential oils) and thus used in perfumery. They are so concentrated that it takes nearly 300 roses to produce one drop of absolute, which is insane, right? The price difference between essential oils and absolutes is justified and explained by this fact. Some of the most popular absolutes used in aromatherapy include oakmoss absolute oil, neroli absolute oil, tuberose absolute oil, and ylang ylang absolute oil. Because they have such a high concentration, they should never, and we mean never, be applied directly. 
For Example, ROSE 
We have Rose absolute oil as well as Rose essential oil, also known as Rose Otto. When comparing the two, the first thing you might notice is the difference in aroma. Rose Otto is far more green and earthy than Rose Absolute. Rose absolute, on the other hand, has a true-to-rose aroma—very floral, sweet, and soft. 
This is because of the chemistry of the oils. Rose absolute is high in naturally occurring phenyl ethyl alcohol (PEA), a heavier molecule that contributes to the lovely aroma of roses. Rose Otto, on the other hand, is high in citronellol and geraniol. 
Both of these oils are derived from the same botanical, Rosa damascena, but rose oils can also be obtained from Rosa centifolia. 
Conclusion
Essential oils and absolutes from the same plant can have characteristics and chemical compositions that differ slightly or significantly. 
Steam distillation yields volatile essential oils, which are composed of smaller molecules that dissipate quickly when exposed to air. In contrast, solvent extraction produces oils with heavier molecules, which is why many absolutes are thicker than essential oils.