We often hear about the natural essential oils and utilize them for different purposes. Amidst the cluster of essential oils, tea tree essential oil for skin holds its own position because of myriads of skin benefits. However, this essential oil also possesses some other types of medicinal properties that make fit for treating ailments.
Whenever we visit online stores, there are sundry of essential oils having their own characteristics & chemical composition. And it becomes difficult to buy the appropriate one for our desired concern. Here we'll explore the benefits of tea tree oil for face & other health concerns. 
As you're aware that essential oils are concentrated plant extracts containing its essence, flavor, and aroma. By the use of different types of extraction techniques such as steam distillation, CO2 extraction, Solvent extraction, Cold-pressed, these natural products are obtained. The essential oils manufacturers always endeavour to keep Quality on highest-priority, while extracting the oil.  
Generally, the raw material that is used for getting the oil is grown in a natural habitat, so as to preserve that original composition. There are many best essential oils for skin, including lavender, certified organic rosehip, frankincense, pink grapefruit, roman chamomile, etc. And each and every essential oil works great on skin concerns; however, tea tree essential oil has its own significance.
What is Tea Tree Oil
Tea tree oil is obtained through the steam distillation process where leaves of Melaleuca alternifolia are utilized for this. It's a shrub belonging to the myrtle family. It's a transparent pale yellow liquid, having aromatic compounds such as gamma-terpinene, alpha-terpineol, cineole, cymene, etc. Like other oils, this oil is also known for its therapeutic properties such as antibacterial, antiviral, antifungal, and anti-inflammatory. It's widely used in various industries for the preparation of medicine, skincare and hair care products, soap, and others. For skincare products, tea tree oil for face is an ultimate ingredient. In the context of other uses – it's good as hand sanitizer, natural deodorant, increases wound healing, fights with acne, etc.
Tea Tree Essential Oil for Skin
Tea tree oil is a perfect ingredient for making skincare products; it carries outstanding chemical properties to treat various skin problems. Due to its skincare properties, tea tree falls under the category of best essential oils for skin. Let's have a close look at tea tree benefits for the skin.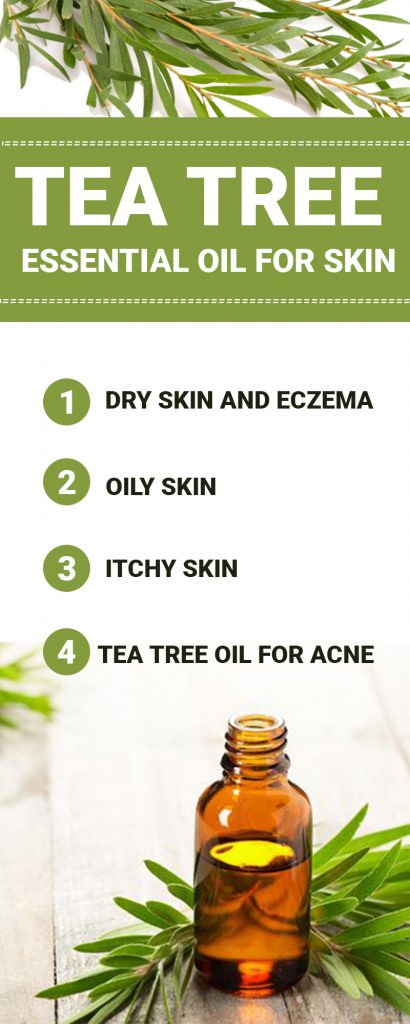 Dry skin and eczema
Tea tree oil possesses an excellent range of anti-inflammatory and soothing properties, which make it a good product for diminishing the irritations and itching. Just add a few drops of tea tree essential oil in a carrier oil or any moisturizer. Now apply this blend on your skin, which further will help on dry skin. In the case of eczema, it's considered the best as compared to zinc oxide and other creams.
Also Read About: Best Essential Oils for Dry Skin
Oily Skin
Tea tree essential oil is also known for its antiseptic properties, where it contributes to dealing with oily skin type. According to a study, it was found that people who were using sunscreen having tea tree oil showed excellent improvement on the oily skin. Besides dry skin, it works effectively for oil skin. It's easy to use, a few drops of tea tree oil in sunscreen, toner or any moisturizer can produce intended results. Tea tree oil for skin (dry and oily) is genuinely a natural remedy.
Itchy Skin
People can have skin itchiness, and in such scenarios, it's required to be treated in an appropriate way. The tea tree essential oil encompasses the anti-inflammation property, which helps in alleviating the inflammation of itchy skin. It's best for treating the itching caused by infections. And for eyelids itchiness, it's quite effective.
Tea Tree Oil for Acne
As tea tree oil exhibits anti-inflammatory and anti-microbial properties; therefore, it's widely used for acne breakout. Every age group suffers from acne. And it's most common among teenagers. In a straightforward way, it's a skin condition where hair follicle gets plugged with undesirable oil and dead skin cells. Further, it causes other problems such as pimples, blackheads, etc. And all these could appear at different parts of the body, including chest, face, forehead, upper back, and shoulders. 
In order to treat acne breakout, tea tree oil is unmatched; it helps in reducing the swelling, inflammation, and redness. Moreover, it's beneficial in getting rid of acne scars, which further results in clear and smooth skin. In a study conducted on tea tree essential oil, researchers found that this natural product can significantly tackle mild to moderate acne without any side-effects. A perfect combination with aloe vera and propolis can bring good changes in acne states. It's always recommended to use carrier oils to get the desired results. Conclusively, Tea tree oil for acne is a one-stop solution for all your acne and associated problems. 
Miscellaneous Uses of Tea Tree Essential Oils
Apart from the benefits of tea tree oil for skin, it has several other advantages. As this has antibacterial properties; therefore, it's good for treating the wound as quickly as possible. According to people, tea tree oil has the potential to heal wounds 10 times faster as compared to other conventional ways. In addition, this natural product is widely used for hair problems, as this can be good for removing dandruff, strengthening the hair, and cleaning the dead cells from the scalp. For good use, you should mix tea tree oil with a carrier oil and let it stay for 20-25 minutes. Moreover, it's quite effective to massage into the scalp and hair. 
How to Apply Tea Tree oil on the skin
Now the big question that comes into the mind, how to apply tea tree oil for skin to get better results. Here we'll explore a few tips to use essential oils.
For acne, you should opt for a suitable carrier oil, and add 1 to 2 drops of tea tree into the 10-12 drops of carrier oil. Once the mixture is prepared, just apply to the affected area. It would be better to apply a small patch test. This will make you aware of any type of sensitivity or allergic reaction. It's recommended to wash your face with a cleanser and pat it dry.
Now further use cotton or pad and apply diluted tea tree oil on the blemished area of the skin. You can use diluted tea tree oil twice a day. Hopefully, you have become aware of tea tree oil for acne, and skin.