It is an important fact that exercise and diet can be beneficial in controlling weight. However, there are certain natural essential oils that can be good enough to promote weight loss. In this section, we'll discuss the essential oils for weight loss.
We know that there are several ways for weight loss, such as diet, exercise, eating plenty of fiber, managing the stress level, and eating protein breakfast, but essential oils can be the best choice for promoting weight loss.
We know that there are hundreds of essential oils with a number of health benefits, but you should be well aware of how these essential oils can be beneficial for weight loss? Natural essential oils are quite good for improving the digestive system and regulating metabolism. These natural essential oils are helpful for reducing body fat and enhance the mood to a greater degree. Essential oils can be beneficial in reducing the anxiety, tension, and feeling of depression. These natural products are good for improving digestion. It's believed that essential oils can produce mental and physical wellness. These essentials are also the best food curbing the food cravings and energize you to carry out the workout.
Best Essential Oils for Weight Loss
Here, we've listed a few best essential oils for belly fat, which possess the finest range of qualities that makes fit for reducing weight loss. These natural essential oils are good for curbing the cravings and burning of fat. These natural products contain effective chemical compositions & therapeutic properties, as well. Let's have a brief intro of fat burning essential oils.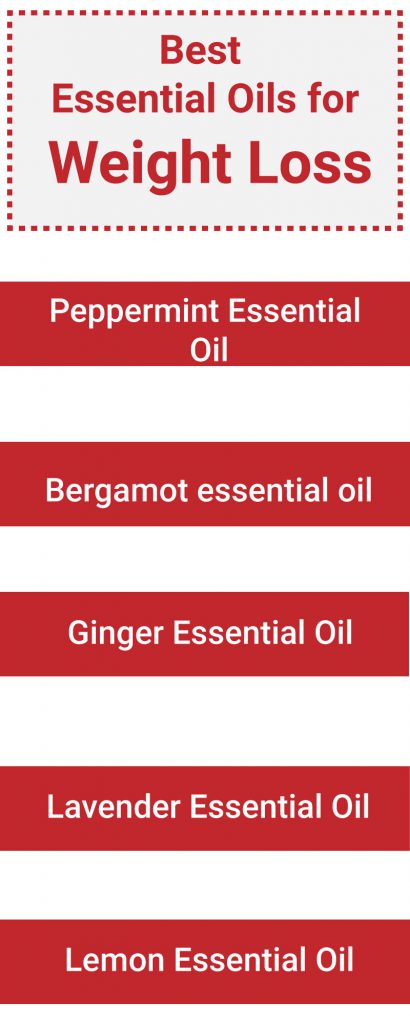 Peppermint Essential Oil
Peppermint essential oil is one of the best natural products which is helpful for suppressing the appetite, and best for reducing the bloating. Peppermint essential oil can boost the energy level of the body and can finish the craving for unhealthy food. Peppermint promotes the feeling of better sleep and is helpful to ease the stress and anxiety problems. It's a natural aid for weight loss and maintenance And produces positive effects, along with a healthy diet and exercises. It can melt the fat and helps the body to carry fewer toxins.
Bergamot has several advantages, including escalation of mood and suppressing the stress; it's a perfect antiseptic, antispasmodic, and analgesic. However, it's considered the best weight loss; it's rich in limonene and provides a pleasant and soothing smell. Bergamot essential oil is the best one that can reduce hunger cravings. Furthermore, it is helpful in reducing weight. Bergamot essential oil is also helpful in normalizing blood pressure. This natural product is a perfect one for metabolic function and an excellent one for the absorption of cholesterol. 
Ginger Essential Oil
The ginger essential oil contains anti-inflammatory and pain-relieving properties. This natural essential oil is exceptionally good for weight loss, joints, and arthritis. It's helpful to improve the digestive system and remove toxins from the body. It further helps in boosting digestion and eradicates the stomach discomfort. In addition, ginger essential oil is very beneficial for flatulence issues, indigestion, diarrhea, and constipation. Among the benefits of ginger essential oil, it's found that it's perfect for suppressing the appetite, and can stimulate digestion. Furthermore, an excellent remedy for promoting weight loss. A healthy diet and exercise play a vital role in achieving weight loss. But ginger essential is also the best one for weight loss, as it's used with other ingredients also.
Lavender Essential Oil
The lavender essential oil has calming and soothing properties and is the perfect one for improving sleep quality. This natural product ensures freshness and eradicates fatigue of all types. It's further effective as it's an excellent stress reliever that can ease the tension. It further helps to provide better sleep quality, which offers vigor and physical strength so as to do the exercise. Furthermore, it's good for promoting weight loss. 
Lemon Essential Oil
Besides all above mentioned essential oils, lemon is the best choice for you which can aid in weight loss. It's the best natural remedy having exceptional health benefits. The essential oil is extracted through the process of the cold-pressed technique. The lemon essential oil has so many benefits, including help for anxiety, stress, and depression; it's good for morning sickness, works as a pain reliever and best for skin problems. For a long time, lemon has been used for various ailments. Lemon essential oil is very useful for weight loss, as it's helpful for removing the toxins from the body. It can increase the energy level and be beneficial for healthy digestion. Study shows that it can boost the mood and best for the body's fat breakdown. Today, among the list of fat-burning essential oils, this oil is the top choice.
Read More: Benefits of Lemon Essential Oil
Grapefruit Essential Oil for Weight Loss
Grapefruit Essential Oil is the best one that can be helpful for breaking down body fat and can increase metabolism. It can be good for massaging the stomach pain, and a perfect one for reducing the belly fat issue. Furthermore, Grapefruit essential oil is considered excellent for regulating the heart rate and improving digestion. Besides all this, Grapefruit oil is useful for reducing appetite.