We are living in an age of advanced medicine & healthcare services. It's transforming the lives of people to a great extent. Even after this, natural products have their own significance. Here we'll talk about the essential oils for anxiety.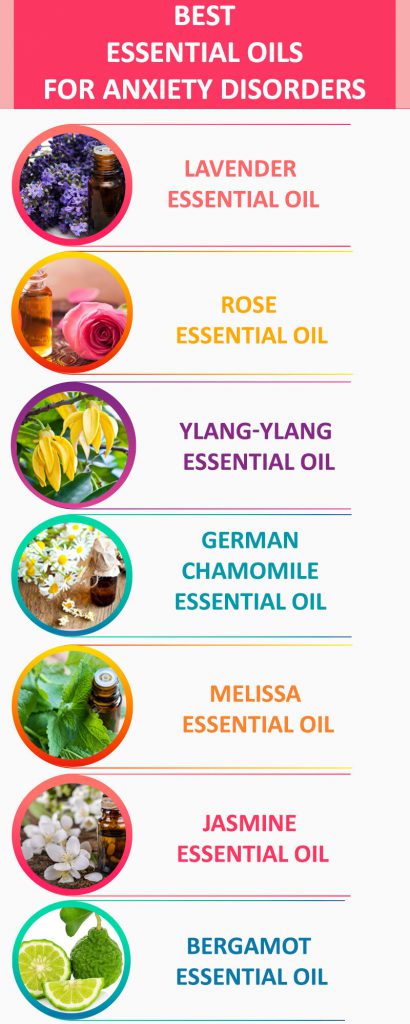 Anxiety is one of the biggest health concerns these days, where 4% of the world's population is suffering from this. It produces a crippling effect on life. Anxiety may lead to several other problems and can because of muscle aches, irritability, restlessness, headaches, tension, stress, etc. There are several ways to deal with anxiety. However, natural calming essential oils are advantageous and work as a panacea for stress, depression, anxiety, and insomnia.
In the context of natural essential oils, these are the pure extracts of plants, shrubs, and plant's parts, i.e. flowers, leaves, barks, roots, etc. These contain aromatic compounds that make them good for treating various ailments, and good for perfumery, cosmetics, food and beverages. 
Best Essential Oils for Anxiety Disorders
After reading this article, you'll be familiar with the best essential oils for stress and anxiety. These essential oils drive good outcomes in your anxiety problems. The soothing, mesmerizing, and pleasant aroma can do wonder to eradicate the anxiety to a great extent. Let's have a close look at the calming essential oils.
Lavender Essential Oil
Lavender essential oil is one of the foremost natural products that is quintessential for the relaxation. If you feel continual stress and anxiety, then this essential oil is good for you. As this can bring the mind in a relaxed state. It has the efficacy to restore the nervous system, and help to proceed for necessary metabolic activities. It's also very good for improving sleep quality and reducing restlessness. You can apply lavender essential topically or can inhale by appropriate means. It's widely used in aromatherapy. Lavender is considered as the best anxiolytic and sedative. It's one of the best known calming essential oils among the natural oils.
Also Read About: Benefits of Lavender Essential Oil
Rose Essential Oil
Rose essential oil has an enchanting fragrance that helps to achieve relaxation and make senses better. Rose oil is extracted by the steam distillation process where the fresh petals of the rose are used for this. It is a wonderful natural product for anxiety and depression. It's also good for balancing hormones and other emotional sufferings. Rose essential oil has the efficacy to reduce high stress and grief. Besides this rose essential oil has other medicinal and health benefits such as it's excellent for skin, ease pain, regulate the blood pressure, manage the cortisol levels, and many more. Rose oil is the best known essential oils for stress.
Ylang-Ylang Essential Oil
Ylang-ylang essential oil has an excellent range of therapeutic properties, as this can stimulate the brain's limbic system, improve the mood, and promote the feeling of calmness and relaxation. Moreover, it has the potential to eliminate negative emotions, stress, and depression issues. Ylang ylang essential oil is obtained by the process of steam distillation where the flowers of Cananga odorata genuina are used for the purpose. It's one of the most favourite essential oils for stress.
Apart from the above benefits, it's good for sadness, tension and sleeplessness. Ylang-ylang also contains such a wonderful property that can improve memory and thinking skills, therefore used in aromatherapy. In addition, ylang-ylang oil is the best fit for flavouring in foods and beverages.
German Chamomile Essential Oil
Garman Chamomile has an excellent range of medicinal properties, including antiseptic, antispasmodic, antifungal, carminative, etc. It's recognized as a versatile essential oil and primarily used in the cosmetic industry. German chamomile has calming and relaxing effects; therefore it's one of the finest calming essential oils. It helps in soothing skin irritation and is good for migraines. Moreover, it produces good results for joint pain or tense and cramping muscles. German Chamomile is the perfect remedy for increasing circulation. It has astringent properties that make it an outstanding skin toner.
Melissa Essential Oil.
Melissa essential oil is also known as the lemon balm and has amazing medicinal and mood uplifting properties. Melissa works astounding for anxiety and depression, as this can calm the nerves and mind, and has the capability to boost the immune system. Moreover, it can work as an antidepressant providing relief from feelings of worry and sadness. It's also an excellent natural product that can ease stress and depression to a great extent. Moreover, it's beneficial in promoting relaxation. It ranks top among the list of best essential oils for anxiety. 
Jasmine Essential Oil
Jasmine essential oil is the perfect one for stress and anxiety; in addition, it can work greatly on different kinds of health concerns. Jasmine has a calming and captivating fragrance that makes it an excellent product for the perfumery. It contains the antidepressant property that alleviates depression from the body and improves the mood. It is good for enhancing the central nervous system to carry out certain specific functions to ease tension and anxiety. Jasmine oil also works effectively for enhancing the positive energy in the body. In aromatherapy, jasmine is widely used and provides mental benefits. Conclusively, jasmine oil is the best essential oils for stress and anxiety.
Bergamot Essential Oil
Bergamot essential oil mostly used for alleviating stress and anxiety; it's an excellent natural product with several useful medicinal properties. Moreover, it can influence the limbic system and can uplift the mood. By the use of the cold-pressed technique, bergamot essential oil is extracted. In addition, bergamot essential oil is quite helpful for preventing the growth of the bacteria, reducing the pain and as well as aid in digestion problems. Bergamot is a one-stop solution for various problems. In addition, it's used as a mouthwash due to its antimicrobial properties. Meanwhile, this natural product is quite useful as a painkiller, and secretion of necessary hormones to lessen the nerve sensitivity. Bergamot potential to secrete the important digestive acids make it a good product for digestion issues. In the case of blood pressure, the study reveals that it can break down the sugar and increase nutrient absorptions.
Floral essential oils is renowned natural products i.e. essential oils manufacturers and wholesalers in India. We are known for our superior quality of essential oils that are produced by conventional extraction techniques. Since our inception, we have supplied the highest quality of attars, absolute oils, carrier oils, essential oils, and many more natural and herbal products. Our essential oils for anxiety and depression are recommended by the medical practitioners and used by aromatherapists. We supply our products to different industry verticals, as well as to soap and candle manufacturing units. Just book your favourite natural product online at the floral essential oils website.